Do You Have A Pest Control Problem?
Our Services
We use only chemicals that are listed on the U.S. Governments list of "Green" pesticides. Our unparalleled service, competitive prices, and overall value are why our loyal customers won't go anywhere else. We look forward to serving you!
Residential Pest Control
We offer both one time and regular preventative pest control programs for your home. With our quarterly program you also receive free emergency call backs if necessary. A typical size home is priced around $60 per service. We don't require contracts as we know that once you've seen what we can do, you will be a customer for life!
One-time or Quarterly Service Plans

Knowledgeable & Friendly Service

100% Satisfaction Guarantee
Commercial Pest Control
Preventative pest control that is safer for your employees, customers and vendors. Our programs are custom designed around your particular facilities needs, your industry, and your specific pest problems, including cockroaches, ants and spiders. Go Green! Pest Control Services commercial clients include restaurants, convenience stores, apartment buildings and warehouse facilities to name a few.
Program Tailored to Your Industry and Your Needs

Fast, Professional Response
 Health Care Facility Pest Control
Our green pesticides are perfectly suited for sensitive areas such as hospitals, Doctor offices, exam rooms and waiting rooms. When safer, more effective pest solutions are required, Go Green! Pest Control Services is the answer!
Program Tailored to Your Needs

Fast, Professional Response
 Preventative Programs
We offer both one time services as well as regular preventative services designed to prevent bugs from even entering your home.
Eco-Friendly, Safe for Kids and Pets

One-time or Quarterly Service Plans
Bed Bug Eradication Services
Our bed bug services are 100% guaranteed. We are the largest provider of bed bug services in the Wichita Metro area. We do more bed bug eradication's in a week than most companies do in a year. Because of the quantity of bed bug jobs that we perform, we are able to do them better and cheaper than most any other company in the area. We provide free inspections and estimates. Some of our bed bug customers include Public Housing as well as Military housing. If you really want to get rid of bed bugs quickly, without costing an arm and a leg…..Go Green! Pest Control Services should be your first and last call!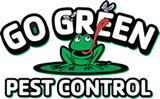 OUR CUSTOMERS SAY
This is a great company! The employees are friendly and courteous. If you have a bug problem, they will solve it. If you don't have a bug problem, they will make sure you never do, with quarterly treatments. I've used Go Green for years and have absolutely no complaints!
I have used Go Green Pest Control for a few years. They are friendly, informative. Send reminders for quarterly treatments. Mick is very supportive to our military. I have never has an issue with them. Highly recommend and affordable pricing.
Go Green is lethal to your pests! They either die or leave after the treatment! It does not leave an odor or any troubling chem residue! Do something good for the environment in your home! GO GREEN!